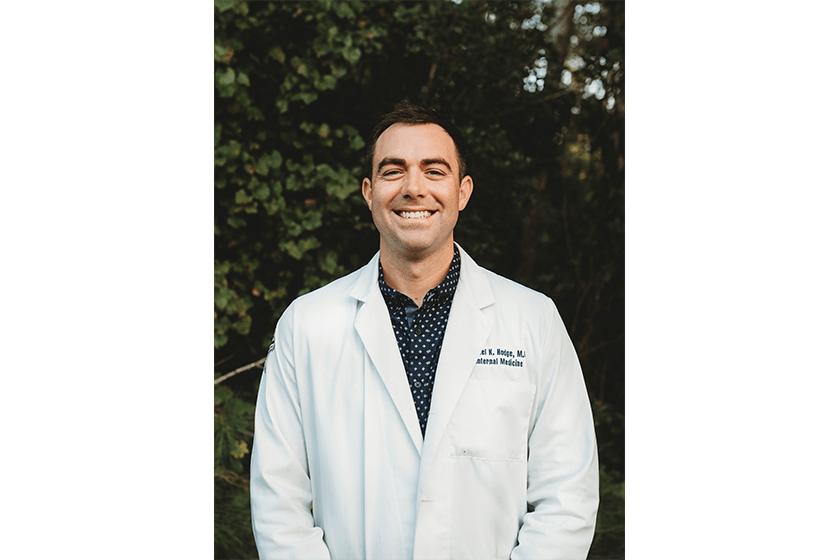 Dr. Dan Hodge
Founder of Fourth Tree Health
About Dr. Dan and Fourth Tree Health
Dr. Dan founded Fourth Tree Health in 2019 with a vision to change the delivery of primary care. As a central PA native, Dr. Dan grew up in Camp Hill, PA, attending Cedar Cliff High School before going on to play basketball at Lebanon Valley College where he received a bachelor's of science in biochemistry & molecular biology.
After college, Dr. Hodge received his medical doctorate from Eastern Virginia Medical School on a health professions scholarship from the United States Navy and trained at the military's flagship hospital, Walter Reed National Military Medical Center, commonly referred to as "The President's Hospital." He was stationed at Naval Medical Center Camp Lejeune and achieved the rank of Lieutenant Commander, before moving back to Central PA to create his vision of a primary care system that is truly patient-centered.
Within Primary Care, Dr. Hodge has expertise in cardiovascular health and weight management. He works as an obesity specialist for a leading national weight loss and cardiometabolic clinic, Calibrate Health. Dr. Dan holds dual board certification in internal medicine from the American Board of Internal Medicine (ABIM) and obesity medicine from the American Board of Obesity Medicine (ABOM).
Fourth Tree Health at OneSkin Dermatology
"As my primary care provider, I speak from experience when I say that Dr. Hodge fully embodies the OneSkin mission to create a sustainable health ecosystem that empowers patients to see health as the most important form of personal wealth. The opportunity to have Dr. Hodge bring his knowledge and expertise to expand the services offered OneSkin Dermatology is an incredible gift to our Franklin County community where the quality of primary care has suffered tremendously. Switching to Fourth Tree Health direct primary care was the best decision I've made for my personal health, hands down."
- Dr. Rachel Day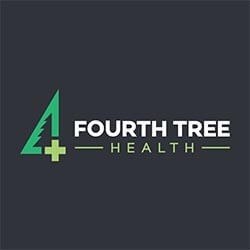 Reviews
"I was so nervous and self conscious about going to the dermatologist for the first time and both Dr. Day and her staff were amazing! Dr. Day was super kind and easy going and professional which made the visit a wonderful experience. I love how thorough she is and how she takes time to explain information to you to make sure you understand. Highly recommend her for your dermatologic needs!"
- H.R. /
Google /
Jun 26, 2020
"Just started today. I had a good experience with Doctor Day. She n her staff are very thorough n show such kindness to their patients."
- J.Y. /
Google /
Oct 06, 2021
"Dr. Day is a kind woman. She is very knowledgeable and unlike some doctors she took plenty of time with me and explained what I have, why I have it, and some background about the issues I have. I highly recommend her."
- J.S. /
Google /
Sep 28, 2021
"i AM 72 YEARS OLD AND HAVE MELASMA. THIS IS A DARKENING OF THE SKIN ON MY FACE. I WAS STARTING TO LOOK LIKE A RACCOON. i COULD NOT WEAR MAKE-UP BECAUSE MY FACE WAS 2 DIFFERENT COLORS AND NOTHING WAS ABLE TO COVER UP THE DARKENED SPOTS. I WENT TO ONE SKIN DERMATOLOGY AND IN A MATTER OF 2-3 WEEKS MOST OF MY FACE WAS THE SAME COLOR. I WENT TO MY NIECE'S WEDDING AND FOR THE FIRST TIME IN 5 YEARS I WAS ABLE TO WEAR MAKEUP. I CANNOT BEGIN TO TELL YOU WHAT A DIFFERENCE IT HAS MADE FOR ME. I FELT SO SELF CONSCIOUS OF MY FACE AND THEREFORE DID NOT GO VERY MANY PLACES NOR INTERACT WITH MANY PEOPLE. THIS IS NO LONGER THE CASE! THANK YOU VERY MUCH DR. RACHAEL DAY AND ONESKIN DERMATOLOGY."
- S.S. /
Google /
Sep 24, 2021
"My daughter was a new patient starting in January of this year who had a really bad issue with acne. When we went in for the first time they insured us that they were going to help her and guaranteed that by April and May she would be cleared up. And they kept their word! Her skin looks fabulous and we are extremely thrilled at the service we have in doored from this office! We would recommend to everyone!!"
- V.S. /
Google /
Sep 22, 2021
Previous
Next
Services with Fourth Tree Health
Dr. Hodge is accepting new patients! Now scheduling the 1st Friday of the month starting April 2nd 2021.
Executive Physical - $350
Includes: complete review of medical history, medication review, treatment plan regarding age-related cancer screening and vaccines, EKG with interpretation, metabolic testing with resting metabolic rate (RMR) and body fat composition, annual lab testing.
Weight Management Consultation- $250
Includes: complete review of medical history, review of current treatments, prior weight loss therapies including medication/surgical treatments. Education on approach to nutrition and exercise to help facilitate weight loss. Advanced metabolic testing and interpretation for insulin resistance and lipid evaluation through Cleveland Heart Lab (CHL; additional fee). Discuss FDA approved weight loss medications.
Weight Management Treatment Program - $900 initial 4 months; $150 per month starting 5th month
Personalized weight loss management for long-term results. Achieve a goal of 5% body weight loss at 90 days. Detailed nutrition and exercise plan with regular follow up including telehealth. Includes lab testing through CHL, resting metabolic rate, body fat analysis, and initial dietician consultation through CHL. Most importantly, it includes a partnership with Dr. Dan to take the steps necessary for a healthier you.
Gender Affirming - Initial Consult: $175 and Follow up $100 per visit.
Initial consult to review medical history, prior treatments, and ongoing social/psychiatric support evaluation. Dr. Dan will order lab work prior to any further consideration for cross-sex hormone therapy (additional fee).
Follow-up visits for ongoing treatment and care coordination with treating mental health provider. Follow-up is typically every 3 months to monitor response to hormonal therapy.
Women's Health Consult- Initial Consult: $200 and Follow up $100 per visit
Initial consult includes evaluation of hypoactive sexual desire disorder or hormone replacement therapy in perimenopausal or menopausal women. Review of medical history and prior treatments as well as risk-benefit discussion with regard to family history. Lab testing available through CHL or Quest diagnostics (additional fee).
Follow-up visits for prescribing treatment monitoring approximately every 3-6 months, depending on response.
Men's Health Consultation - Initial Consult: $200 and Follow up $100 per visit
Initial evaluation and consultation for hormone replacement therapy. Review indications for testosterone replacement therapy and discuss risks and benefits of treatment as well as need for ongoing follow-up with blood pressure and lipid testing. CHL testing is required for this consultation (additional fee).
Follow up visits for prescribing testosterone and monitoring hormone levels is approximately every 3-6 months.
Medical Marijuana Indication Consultation- $300
Initial evaluation, review of medical history and indication as well as reviewing consent form for medical marijuana.
All patients are required to preregister on PA.gov website ahead of appointment. Fourth Tree Health will provide information on the preregistration process when your consultation is scheduled.